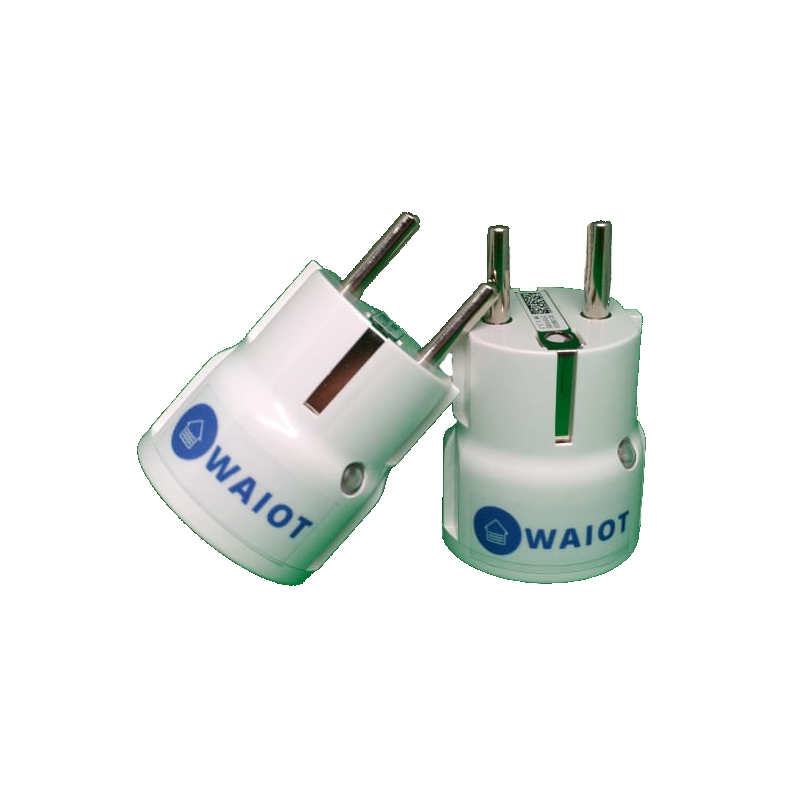  
Smart Power Outlet
Here is the new smart electrical outlet, able to communicate to WaIoT if your appliances are working or not. In this way WaIoT will be able to evaluate in real time whether the consumption of water when you are absent is justified or not. Thanks to Smart Power Outlet you no longer have only a hydraulic consumption monitoring system, but you will have an intelligent integrated system able to correlate heterogeneous data.
Installing Smart Power Outlet is very easy! In fact, Smart Power Outlet is a normal Shucko outlet that you only need to connect to your appliances such as: dishwasher, washing machine.
For an optimal installation of WaIoT it is advisable to equip your home with 2 Smart Power Outlet to connect to the washing machine and the dishwasher
Smart Power Outlet is an intelligent adapter able to communicate remotely with WaIoT Hub. Smart Power Outlet monitors energy consumption and allows WaIoT to interpolate this type of information with water consumption data.
Smart Power Outlet is distributed in Shucko format, but on explicit request it is possible to order outlets compatible with the following formats: French, Danish, UK.
For your safety, we have equipped Smart Power Outlet with auto-off functions in case the maximum load or the maximum operating temperature is reached, moreover through a patented switching algorithm, the wear of the relay is eliminated, guaranteeing the same performances also after 100,000 full load switches.
Technical specs
Overall dimensions: Ø 41 X 45 mm
White color
Plug options: Danish, French, Schuko, British
Power supply: 230 V
Absorption: 0.4 W
Environment Operating temperature: 0 to + 50 ° C
IP class: IP40
Relative humidity 5% - 85%, without condensation
Radio characteristics Sensitivity: -101 dBm @ 1% PER Output power: +8 dBm
Voltage range: 207 to 253 VAC
Current range: 10 A continuous, 16 A (max 15 min.)
max. switching voltage: 250 V approx
max. switching current: 10 A
Certifications Complies with CE, RoHS and REACH directives
Zigbee Home Automation Certification 1.2